Jun 05 2009
IndieMuse loves the pixies. So does our wonderful friend Liz Pelly from PellyTwins. She wrote an even more wonderful article, published below, about the Pixies and their overarching influence on Boston bands. (Full Disclosure: I'm interviewed in this article. Ha)
Pixies fans with hundreds of dollars to spend will surely be reminded of the band's relevance and significance as the most influential band to ever come out of Boston on June 15, when the band is set to reissue all of their studio albums in a fancy box set.
Titled Minotaur, the package will be offered in both a Deluxe Edition and a Limited Edition.  The Deluxe Edition includes the Pixies' five studio albums– Come on Pilgrim EP (1987), Surfer Rosa (1988), Doolittle (1989), Bossanova (1990) and Trompe Le Monde (1991), plus a DVD of every Pixies' music video and their 1991 performance at London's Brixton Academy (a year before they broke up), a 54-page picture book, and redesigned album covers by the Pixies original designer Vaughan Oliver, all in a slipcase.  The Limited Edition version includes the entire deluxe package, plus each album on 180-gram vinyl, a Giclee print of Oliver's artwork, and a 72-page hardcover book, all in a custom clamshell. The Deluxe Edition is $175 and the Limited Edition is $450.
While these re-designed packages are one way to remember the impact of this influential band, there are certainly other ways to hear and appreciate the Pixies' legacy.  Boston University visiting professor of American history reminds us that while listening to the Pixies' albums can re-affirm their significance in American culture, their legacy can be appreciated just as much by listening to their influence on other bands.
"They're the kind of band whose legacy continues to increase as years pass," said Schmitz.  "Their significance is about influence more so than their album sales."
So rather than shell out hundreds of dollars for box sets, perhaps try reminding yourself of the Pixies' legacy by checking out these Boston bands who all cite the Pixies as a major influence, after the jump:


You can be a Wesley
"The Pixies are more of an institution than a band," said Nick Curran, bassist of You can be a Wesley.  "Frank Black has these gnarled, abrasive, screaming-his-fucking-head-off vocals, but then they also have these melodic top-40 kick-ass rock sounds.  It's just accessible enough to have appeal, but it's not intentional.  It's organic."
Curran said after hearing Doolittle, he listened to the album for a year straight, and learned how to play bass by listening to Kim Deal.
"It showed me how bass playing could be simple and melodic, while still having a definite presence in the song," said Curran, who only played bass when he first started learning from Deal's bass lines.  Curran said the dynamic Deal creates with her bass playing is unique because it is not overbearing and only surfaces when it needs to.  "With bass, it's important to not get too carried away."
The Pixies influence on his bass playing is most evident in You Can Be a Wesley's song "Creatures," said Curran, whose favorite Pixies tracks are "Hey" and "Dead."
"I was thinking of the Pixies when I wrote the bass line for that song," Curran said, adding that it's hard to pinpoint exactly where Pixies influence surfaces because "they are such a pervasively influencing band."
You Can Be A Wesley – Creatures
Kids With Kites

Kids With Kites bassist Joe Difazio also said he is largely influenced by Deal's bass playing.
"She's not a great bassist in a technical sense," said Difazio.  "She didn't even know how to play bass when she joined the band.  But it's very simplistic and melodic and good."
Specifically, Difazio said the song "Gigantic" off of the Pixies' 1989 release Surfer Rosa has had an influence on his bass playing.  "The whole song is in G.  You get Francis and Santiago soloing over it, but it's all surrounding that same bass line playing throughout the whole song.  It's amazing."
Difazio said that the Kids With Kites track "Fiction Non-Fiction" is heavily influenced by "Gigantic."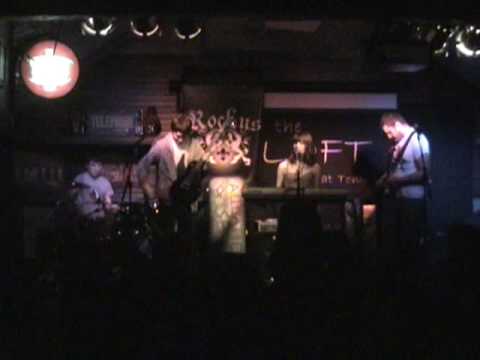 The Toothaches
"A lot of people say we sound like the Pixies," said Rose Blakelock. who sings and plays keyboard for The Toothaches. "I think part of it is because we're from Boston, and part of it is because we have the same male/female vocals.  We never sat down and said, 'we're going to write this song like the Pixies,' but it's a huge honor to be compared to them."
Blakelock said the Toothaches' song "Sucker Punch" is their track that sounds the most noticeably Pixies-influenced, but that the influence was "unintentional."
"There's a Pixies-esque surf-rock intro," Blakelock said.  "And we trade off male/female vocals.  Any time we do that it tends to sound like the Pixies.  We also have some newer stuff that nobody's heard, with one-note guitar parts that are very Frank Black-esque."
The Pixies were different from other 1980s bands; they played an integral role in "a movement that brought guitar back to the forefront of rock," Blakelock said.
"Before the Pixies, there were so many keyboards and synthesizers and disco and over-production," said Blakelock.  "You hear those albums and know they're from the 80s.  The Pixies were less produced."
And from their heart-warming lo-fi debut…:
The Bynars

"In any guitar solo I write, part of it is always going to be influenced by Santiago," said Matt Jatkola, guitarist for The Bynars,  "I don't do busy stuff a lot of times, so in a sense almost any Bynars solo is a Pixies nod."
Jatkola said that the "juxtaposition of everything" is what makes the Pixies' sound so unique and important.
"When you first hear the Pixies, it feels like you've never heard anything like it before," Jatkola said, "And then after you hear them, you never hear anything like them again."
The Bynars – It's So Easy To Fall
The Pixies are headlining the Isle of Wight festival on June 14.  If you can't make it to the UK, check out these contemporary reincarnations of the Pixies' sound in Boston bands. ( Ed – Or check out some other sweet, possibly Pixies influenced Boston bands like Pretty & Nice, Tulsa or Hooray For Earth. Cause they all rock. Hard.)
6 Responses to "The Pixies and Boston Bands"
#

alexxx

on 07 Jun 2009 at 2:42 pm

My friend Jessie first introduced me to this band and I thought that they have a really unique sound that you really dont hear often and once you hear them you dont want to hear anything else . . .

Currently, Japan is one of nine people and using people, two people per person to hold the credit cards "power caching"!

[…] a comment » IndieMuse.com — June 5, 2009. A blog post on the influence of the Pixies on Boston-based bands.  Adapted from a feature article […]

you can be welsley is my favorite

farklı bir tasarım güzel bir ste

Hey would you mind letting me know which webhost you're working with?

I've loaded your blog in 3 different web browsers and
I must say this blog loads a lot quicker then most.
Can you recommend a good internet hosting provider at a honest price?
Cheers, I appreciate it!
Leave a Reply