Aug 22 2008
 
Being in a band is not the easiest thing in the world, especially when you're young. It can seem stupid and foolish to pursue something with such vigor and intensity knowing well and good that you could fail at any moment. Regardless, one must accept that their innate connection to the art will keep them satisfied and must remember where it comes from. With years of practice, you can finally come out of your cave and share your work with the world–and hope that that child-like energy isn't gone. But how can you be certain? Thus a band is born in tension, irony, anxiousness and excitement.
Today I listened to an album by New York's Ravens & Chimes. A group of wonderful musicians who fight against the all-too-common outcome of a band losing track of what's really important. These are people truly singing of what they know and are well aware of what they tend to project. I'm a sucker for layering, and these guys layer themselves musically as well as poetically. The results could not be a finer debut album–one full of peaks and valleys but is all tied together by a sense of proud urgency. I haven't taken a lot of time to get into the album, Reichenbach Falls, but I will tell you, after my first listen I've had numerous hooks and imagery stuck in my head.
It's a grunge at times–at others it's a folk explosion. In an attempt to disassociate with the tendency to simply describe an artist in terms of others, I suggest you take these beautiful pop songs as they are. If you are interested in these emotion behind these tracks, you will love their album. Buy it. Now.
Today's SotD were two chosen at random. Almost every song on this album has some truly fine quality and to decide on a definitive description would be unfortunate for the creative and talented members of this band. Please, let me know what you think. It's been a little while since I had the time to listen to music, so I'm excited to get back to it.
MP3: Ravens and Chimes – "Far Away Sound of Cars"
MP3: Ravens and Chimes – "Saint Jude in the Village Voice"
MP3: Ravens and Chimes – "…and I Came Upon It in the Clearing"
Home | MySpace | Hype Machine | Better Looking Records
Support this band: Amazon | iTunes | InSound | Better Looking Records
Check out this beautiful intimate performance on Brightest Young Things:Â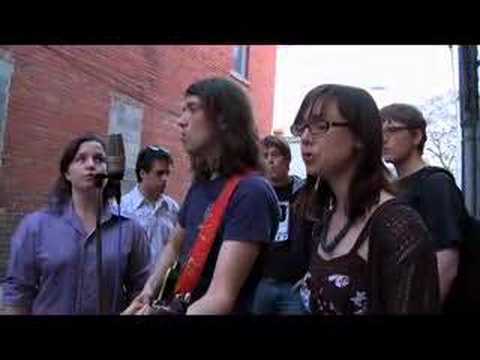 Awesome.
One Response to "Song of the Day – 8/22/08"
#

joe

on 11 Feb 2009 at 1:44 am

Wow i actually heard of them through a skateboard teaser. It's an amazing group.
Leave a Reply