Dec 27 2007
The Maccabees. Are they Jewish? Are they not Jewish? Who knows, and really, who cares (they aren't)? Today, I saw this Jewish magazine over at a friends house called Jvibe and there was a music section that included, "Best Jewish Singer/Group You Wish Would Refer to Being Jewish". The nominees in the magazine are Joe Trohman (of Fall Out Boy), Adam Levine (of Maroon 5), The Beastie Boys, and Amy Winehouse. If the Maccabees were Jewish, they would certainly top the list of "Best Jewish Singer/Group who Refer to Being Jewish". Even though they are not Jewish. That's all I have to say on that matter. And that I think it's silly to expect musicians, or anyone for that matter, to publicly discuss their religion, unless they are Yusuf Islam. But that's for another day. Now to the important stuff.
The Maccabees have a similar sound to Clap Your Hands and Say Yeah, Wolf Parade, and Dogs Die In Hot Cars. Some songs are better than others, but I think the band is worth your listen, as they do have some catchy hooks. Their music is more on the indie rock side and is probably as indie rock as I get. My favorite song of theirs is "Toothpaste Kisses" which is on their debut, Colour It In. I must say that while "Toothpaste Kisses" is a good song, and the most mellow song on the album, I can't help thinking of Dylan's "Lay, Lady, Lay." Does anyone else hear the similarities? I mean, listen to the lyrics. "Lay with me, I'll lay with you, we'll do the things lovers do."
The Maccabees are from Brighton via South London, UK, and band members include Orland Weeks (vocals), Hugh White (guitar), Rubert Jarvis (bass), and Robert Dylan Thomas. You don't have to read far into the biography on their website to see the sarcastic British humor I love so much.
They were ambitious from the start. Shortly after Felix joined, they entered a Battle Of The Bands competition. They lost to a girl group called Red, who played covers, had massive afros and wore miniskirts. The Maccabees had already planned how to spend the money when they won – new amps and a demo. When they didn't, they were so devastated they didn't even collect their second prize – tickets to a beer festival.
Fun fact: They chose the name by flicking through books. The biggest in the house was The Bible. They came across the story of The Maccabees, Jewish rebels who fought against Greek rule and established Jewish independence in the second century BC. As soon as they saw they name, they knew that was it. But it's only a name. They're not a religious band.
Colour It In (2007):
The Maccabees- Toothpaste Kisses
Bonus (what do you think?):
Site| iTunes | Amazon (only $9.98 hard copy)|Myspace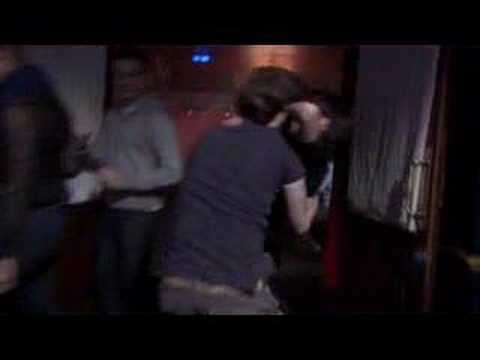 Funny, but weird "Toothpaste Kisses" music video. Very weird. Disturbing, actually.
P.S. HAPPY HOLIDAYS!
12 Responses to "The Maccabees – Colour It In"
#

d.o.

on 29 Dec 2007 at 2:40 am

they sound like coldplay mixed with bob dylan. gross

#

Emily

on 03 Jan 2008 at 11:29 pm

WTF @ that video. I didn't believe you when you said it would be weird. I feel so odd right now…

#

David

on 05 Jan 2008 at 1:42 am

haha, nice d.o.

emily, maybe you can trust me from now on..okay? haha, but yeah, that video deserves a major WTF. I haven't watched it since posting it. I still feel odd. At least, it's not as bad as two girls one cup. I swore never to watch that video, but my friend shoved it in my face over New Years. If you want a WTF, watch that. But seriously, don't watch it.

#

jack

on 18 Jan 2008 at 7:21 am

thats not the official video to the song…

#

David

on 20 Jan 2008 at 9:29 pm

Jack, I didn't know if that was official or not; Found it on there Myspace page. Do you have a link to the official video? Thanks.

its how us brits roll ;)
when we go to pubs, we generally just get off with each other
try it
its a blast

#

sarah

on 17 Jun 2008 at 11:21 pm

i think its awesome
reow

#

Roly

on 07 Jul 2008 at 9:47 am

enjoyed the read.

this band just grow on you. good bands always do!

the album is fast and fun, my stand out tracks are Lego, bicycles and latchmere (lyrics just hit a few moments I've had in my life)

"Mum said no to disney land!"

looking forward to the nexted album.

#

Sarah (a different one)

on 22 Nov 2008 at 11:37 am

yeahh the maccabees are top
i love lego, he sounds proper upset at the fact that he can't build castles :')

#

Sarah (a different one)

on 22 Nov 2008 at 11:39 am

yeahh the maccabees are top
i love lego, he sounds proper upset at the fact that he can't build castles :')

#

Alice.

on 30 Dec 2008 at 11:24 pm

The Maccabees are super brill.
I heart them so well.

Toothpaste Kisses is my favourite song too, I also like Colour It In, and Mary.
(:

Wish they'd come out my way.

I love what you guys tend to be up too. This sort of clever
work and coverage! Keep up the wonderful works guys I've incorporated you guys to my personal blogroll.
Leave a Reply