May 25 2010
If you're a fan of Bob Dylan, Nick Drake, Ben Kweller, or Sondre Lerche, you should check out Irish singer/songwriter, Fionn Regan. He's a lively musician who places a lot of emphasis on his lyrics, continually balancing his quirky and dark sides.
In 2006, Fionn released his self-produced debut album, The End of History. He compares the album to opening a "lemonade stand," saying that "no one really had any expectations, and then it took off." Since then, he's been doing quite a bit of touring, and just released his follow-up album, The Shadow of an Empire. It's notably different than his debut, containing darker lyrics and a new instrumental approach, riding more along the lines of folk/punk, than his previous lush, folk melodies.
Like many of his fans, I probably prefer The End of History. But  I think both albums are great, and I can't wait to see what Fionn has in store for his next album. I think it's really cool that he stays true to his music, regardless of where it steers him, and that he still handles all the creative aspects of his music. He says, "if you work with a producer, it seems all the time is spent telling them what you want to do. I suppose until I meet someone with that Lennon and McCartney thing, who just gets it, I'll do it myself."
Fionn Regan is based out of Wicklow, Ireland. I read a few interviews with him, and am pretty fascinated by all the imagery he uses when he talks. He throws around quirky metaphors like it's no one's business. Such as the above example with comparing himself to a lemonade stand, or when asked why he became a musician: "You make a pact with something invisible. After that you can trip and fall into a river, or you can follow a lot of crayon maps drawn by demented people, but you still have to do it, because you'd suffer if you didn't." I couldn't have put it better myself!
The End of History (2006)
(mp3)Â Fionn Regan – Put a Penny in the Slot
(mp3)Â Fionn Regan – Be Good or Be Gone
The Shadow of an Empire (2010)
(mp3) Â Fionn Regan – Lord Help My Poor Soul
This video for "Be Good or Be Gone" is wonderful.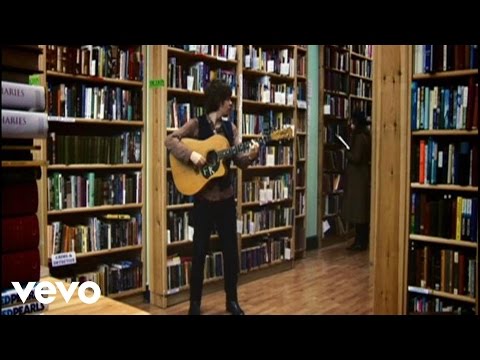 2 Responses to "Fionn Regan"
#

Alie

on 26 May 2010 at 12:22 am

Ooooh so glad you posted this. I'm not really sure what to make of his newest album, but I definitely need to give it more eartime so I can properly form an opinion on it. I've just spent so much time completely adoring The End of History.

And this year I've actually thought a lot about the album's title, since the phrase "end of history" kept coming up in my classes when we'd talk about post-modernism and personal historiography, where history focuses more on the individual's story as opposed to like a dominant sort of discourse. And that just seems very Fionn Regan to me, looking at the subject matter of his lyrics. Like he's a storyteller through and through. And yeah, it's even in the imagery he uses and that sort of childlike way he looks at the world where he speaks in sort of symbolic terms because it makes sense to him and he doesn't have to root his stories in something concrete.

ANYway. All this gobbledygook is just a long-winded way of saying I love Fionn Regan's music soooooooooooooo much and I'm glad that people are still talking about him…

Mmkay. That's enough outta me.

#

woofmutt

on 14 Sep 2010 at 11:30 pm

I "discovered' Mr. Regan on Pandora last year but lost my notes and his name. Had not seen the video which is really, really great. Once again, thanks for the post.
Leave a Reply