Feb 12 2009
If you are a fan of She & Him, Forest City Lovers, or Regina Spektor, be sure to check out Seattle based singer/songwriter Shenandoah Davis.  Although her minimalist lo-fi sound isn't for everyone, I am a big fan of her piano compositions and, for the most part, really enjoy her classical vocals. Her voice will definitely draw some comparisons to Joanna Newsom, but in my opinion, Davis' vocals are much more pleasant.
The title track "We; Camera," along with "These Rocks," "Hobos and Bulls," "Take Ourselves Out," and "Up&Over" are my favorite tracks on her 2008 debut album.  These songs carry a vintage sound, as if they came straight out of the early 1900s. This, aligned with Davis' confident voice, makes for a really unique treat (not to mention that she incorporates the vibraphone & accordion). We; Camera is also a concise album, with most tracks coming in under three minutes long.
As her biography states, Shenandoah Davis started teaching herself piano at the age of three and continued her classical studies up until college, where she decided to audition as a classical voice major despite having no prior vocal training. Studying classical voice, piano, jazz guitar and harp during college, she became frustrated with the 'tunnel vision' and politics of academia and, swearing off classical music after completing her degree, she began composing on her own. In the winter of 2006, a series of "travels and tribulations" led her to Seattle, where she currently resides. In January of last year, Davis released a 7 track EP, entitled Milagros, and her full-length debut released last July. She also plays accordion, piano and vibraphone with Grand Hallway, accordion and wurli with Jack Wilson and the Wife Stealers, and a as-of-now-only-recording project with secret other people called hello, broken arrow. She's playing some shows in Seattle, so if you live there, check her Myspace for dates.
We; Camera (2008):
(mp3) Shenandoah Davis -Â  We; Camera
(mp3) Shenandoah Davis – These Rocks
(mp3) Shenandoah Davis- Up & Over (I really like this composition)
Here is a really creative and quirky music video for "We; Camera." Directed by Clyde Peterson. I like this a lot.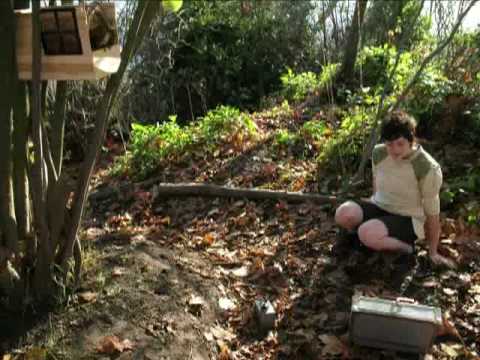 One Response to "Shenandoah Davis – We; Camera (2008)"
[…] I recorded a full-length record in 2008 called 'We; Camera' that is still available for sale on iTunes, but in its physical form it has been retired onto […]
Leave a Reply